Services
Scenic Elements
Video
Lighting
Rigging
Staging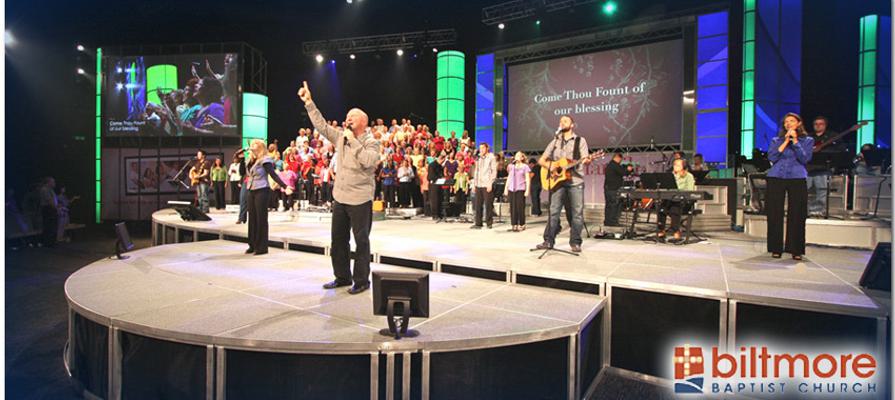 Project Overview
Paragon 360 was contracted in 2011 for the renovation of Biltmore's main sanctuary in Asheville, NC. The project included video, lighting, relocation of video control room, Paragon's custom staging and scenic elements, ceiling treatments, paint work, and audience seating risers. The challenge of the project was its timing. The project ran twelve weeks start to finish which included design and implementation.

Stage & Scenic Design
The stage, designed & built by Paragon 360 was actually a smaller stage than the one they had currently, even though their needs were growing. However the new stage was designed to be very efficient, flexible, and modular. The new 3,500 square foot stage was built using Paragon's Signature Modular Cube System. It is comprised of (144) 3'X3' aluminum, self-locking modular cubes. Due to its modular nature, the shape and size of the stage can be changed anytime. Audio and video floor pockets are distributed throughout the stage and can be moved anytime creating a completely flexible distributed power system.
The scenic design created for Biltmore housed the three main stage screens which were the focal point of the whole space. The set columns, panels, and walls were designed using variations of Paragon's illuminated wall products. The area underneath the screen surfaces were designed to be replaceable, re-printable mylar graphics allowing unlimited flexibility between services and events. The set walls are self-illuminated from the inside, with LED lighting allowing for unlimited color change.

"It has been a pleasure to work with PARAGON 360 in creating a completely new worship center for our church. Their professional ingenuity created a completely unique product for our church. I was extremely pleased with the way they used their creative abilities to match our own environment."
Video & Lighting Systems
The video work consisted of upgrading their entire video system from standard definition to Digital HD and integrating this new system into a whole new control room area that would also house-lighting control. Projection upgrades included new Barco 8K DLP projectors on two Dalite large-format 20' X 11' screens and a 21' X 12' center motorized screen which when raised reveals the baptistery. The screens were built into the custom set work. Camera locations were redesigned with new infrastructure put into place. A full camera package and Ross switching was included as part of the project. The control of video screens and projectors is accomplished through a convenient Extron touch panel in the control room.
The Lighting system renovation included new ETC dimming and completely new distribution of dimming, 208V and 100V power to over (16) locations. New lighting positions were created which included two new front of house positions, a mid-stage position, three back-lighting positions and two new side light positions. Some of the lighting positions were designed to be motorized. The upgrade included conventional and LED lighting fixtures and upgraded networked control systems throughout the space.