Services
Audio
Scenic Elements
Lighting
Interior Design
Rigging
Staging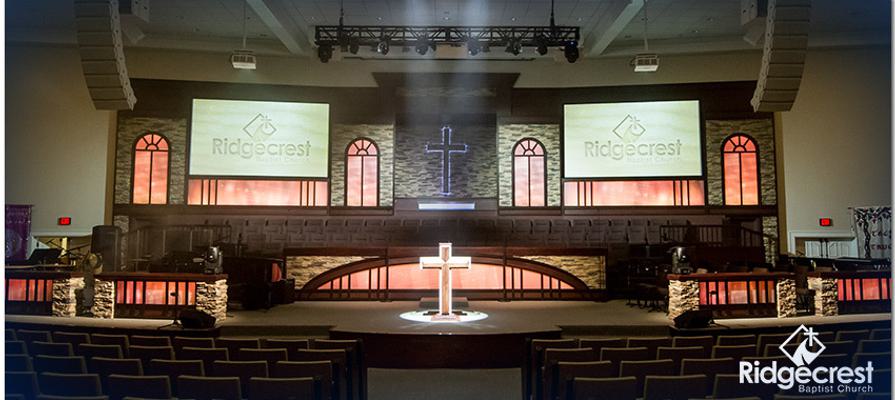 Project Overview
When Ridgecrest Baptist Church in Dothan, Alabama, decided to renovate their worship center to accommodate multiple worship services, reach the younger generation and expand the platform size, they turned to Springfield, Missouri-based Paragon 360 who was chosen because of their track record in similiar church renovation projets.

Starting out as a prayer meeting in 1951 with their first official service held in 1953, Ridgecrest Baptist has since grown into one of the largest churches in Alabama, with a weekly attendance of 2,500. As the church expanded in size, the multi-generational aspect of the congregation increased as well, and the need to have one space that could be the home of multiple worship services of varying styles became a primary concern. Design work began in June of 2016, and installation was completed in August of 2017.
"I don't know of any group out there that has the capacity, the skill set, the experience, and the pedigree that Paragon 360 does."
Challenges
Ridgecrest faced a challenge in the fact that they had a well-established blended service in place, but they had recently added a new contemporary worship service to their Sunday morning schedule, and both services needed to take place in the same space. "As we began to search, we discovered Paragon 360 as a company that did that kind of thing", said Matthew Johnson, Minister of Administration at Ridgecrest Baptist. "We were tasked with a very short time line to get this worship space done. Paragon, being right in the middle of this project for us, hit two weeks just like they said they would, and we were able to stay on track and be able to open the day we said we would."
Custom Solutions
The renovation of the worship center at Ridgecrest Baptist involved a substantial amount of Paragon 360's signature custom scenic and staging elements. Multiple Modesty Walls were used to provide a clean look for the platform, as well as a larger Choir Wall that is situated behind the pulpit. The centerpiece of the platform is the custom modular choir loft that is capable of seating a 120 member choir. The back platform wall behind the choir consists of multiple. large, back-lit scenic sections elements with a redesigned baptistery and halo-lit cross as the focal point of the entire platform. Substantial amounts of custom wood accents and faux rock were used throughout the entire platform design, providing a warm, engaging environment for the congregation. All of the choir loft and scenic/staging elements were designed, built and installed by Paragon 360.
"Today's church is changing. It's changing in a dramatic fashion. Paragon understands that change, and how to reach people."
Audio, Video & Lighting Upgrades
Paragon 360 also upgraded the audio, video and lighting systems in the worship center. Audio system upgrades included JBL choir and floor monitors, QSC amplification, choir and piano microphones by Earthworks, and the addition of Ace Backstage floor pockets.
Video system upgrades included two Panasonic PT-RZ660LWU 6,200 Lumen, 1DLP, WUXGA Resolution (1,920 x 1,200), Laser Projectors, and two Da-Lite Custom Da-Snap 88″ x 156″ Fixed Frame Screens with HD Pro 1.3 viewing surfaces. Interface to the content management and control equipment was accomplished with Datavideo HD/SDI converters.

Lighting system upgrades included a new M2GO HD lighting controller from Martin. The scenic elements feature Chauvet's COLORdash Batten-Quad 6 and COLORdash Batten-Quad 12 linear wash fixtures, which provide richly saturated colors throughout the entire platform set.