Services
Scenic Elements
Video
Lighting
Interior Design
Rigging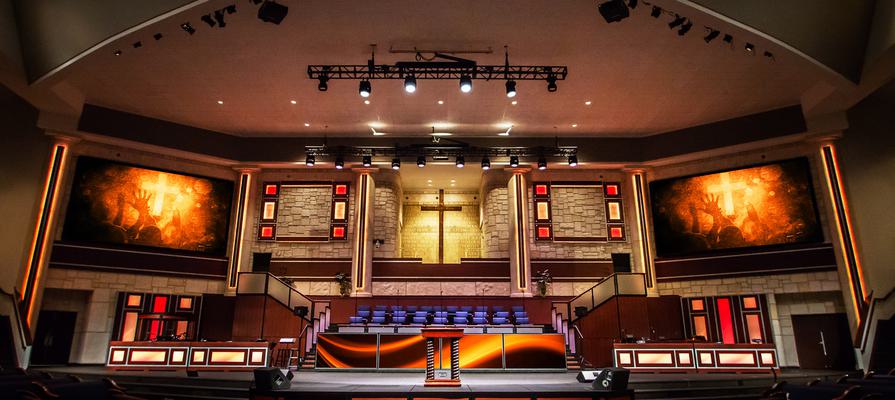 Project Overview
Sunnyvale Baptist Church in Sunnyvale, Texas, was looking to carry out a three phase sanctuary renovation. They contracted Paragon 360 for the project in 2016. Phase one included camera systems, video control room and new video displays. Phase two included updated lighting systems, motorized rigging and custom scenic, staging, and architectural elements designed, built and installed by Paragon 360.
The back wall of the main platform space featured an abundance of stone work that while beautiful was quite overwhelming. Paragon's design team was able to design illuminated scenic elements that would work just in front of the stone work to tone it down and give an updated feel to the room. The existing choir loft was removed and replaced with Paragon's modular choir loft system improving access and flow from the choir to the main platform and shrinking the over-all footprint, increasing stage space.
"Paragon's design build approach along with their ability to do it all for us as a phased project made them an easy first choice"
New AVL Systems Create an Engaging Environment
The video systems included (2) new 12' X 21' HD Progressive video screens with Digital Projection 13,500 lumen projectors. Camera system included (2) Panasonic manned cameras and (4) 3-chip PTZ cameras along with Ross Carbonite switching in a new control room with new clear com systems. The main camera one background consisted of a custom media wall, designed, built and installed by Paragon 360. The media wall consisted of (8) 80" displays with (4) of them motorized and rising above the lower four creating a perfect, controllable, brand able background. Its design allows for visibility to the choir during praise and worship and then provides a solid background behind the presenter with the additional (4) displays raised when the choir is not present. Lighting systems included new motorized lighting positions with new circuit and data distribution, several Chauvet moving lights and extensive LED lighting embedded into Paragon's custom scenic elements. The third phase, planned for late 2019 installation includes new house audio systems featuring Meyer loud speaker systems, Yamaha CL-5 front end and new Shure wireless systems.