Services
Audio
Scenic Elements
Seating
Video
Lighting
Interior Design
Acoustics
Rigging
Staging
Audio Video Systems Overhaul & Extensive Building Renovation
Phase one of our audio video systems overhaul for The Village Baptist Church includes an extensive renovation of their 1,200 seat sanctuary, a fellowship hall and updated AVL systems and acoustics in the gymnasium. Paragon 360 provided complete AVL systems design and installation as well as custom scenic, staging, and architectural elements. We also implemented a custom acoustical island ceiling system, auditorium seating, interior design and strategic planning.

As a leader among church audio visual companies, Paragon 360 has also established the relationships necessary for every aspect of audio video systems renovation, including architectural design services and master planning services. For this project, we worked with our architectural partner, Torgerson Design Partners. Paragon 360 also produced vision casting assets such as capital campaign videos, brochures, and a lobby display booth. Phase one of the project opened in November 2018.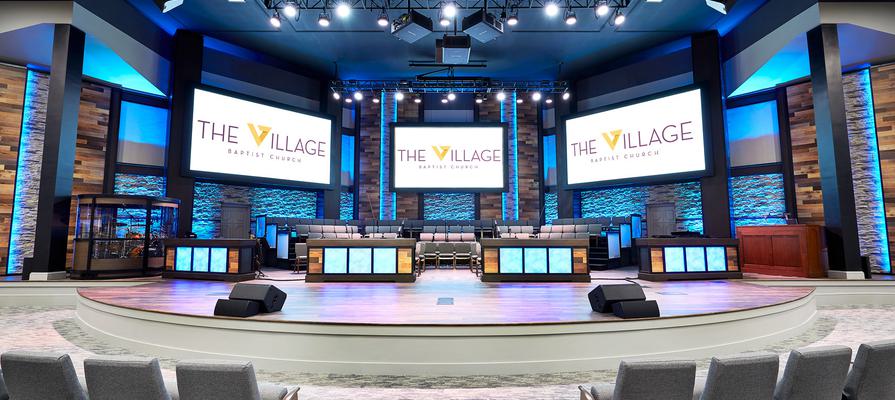 AVL Systems Deliver Excellent Audio at Every Seat
The loudspeakers for the audio video systems at The Village Baptist Church consists of a Worx Audio XL5 main array at center with QSC AP-5152 out fill speakers. Paragon's audio team chose this array for its unobtrusive size, wide coverage, and ability to be tuned for even coverage from the front of the worship center to the back. The array is complimented by a Worx Audio XQ10 low frequency cabinet. Sub bass reinforcement comes from a Worx Audio TL218 "Super Sub" which was deployed directly behind the XL5 array. A single X2 cabinet is flown behind the subwoofer for choir monitoring.
A QSC Core110f provides signal processing for the entire system as well as control of several devices within the AVL systems integration. Mixing at Front of House is via a Yamaha CL5 with remote input and output boxes. Broadcast audio is handled by a QL1. The Dante integration from Yamaha lends itself well to the Digital Audio Labs LiveMix in ear monitoring system. These are coupled with Shure PSM300 wireless systems to help provide a clean stage appearance.
This state-of-the-art audio system provides the sanctuary with exceptional audio quality and capabilities for worship services, concerts, special events, and community functions.
"Paragon brought a level of excellence second to none in this whole process of engagement and it's exceeded my expectations. We value excellence and they have modeled excellence."
Vivid Laser Projection
The main worship center is home to three Da-Lite projection surfaces paired with Panasonic 12,000 lumen laser light source projectors. The stage left and right screens typically feature IMAG content with keyed lyrics, helping to create a more uniform and engaging experience throughout the room. The center screen, which is typically home to full-screen lyrics or sermon graphics, is motorized, and retracts into its cabinet to reveal the baptistry.
Paragon designed a production system that is based around a streaming ministry. Two Panasonic PX380 manned cameras focus on the worship platform, and are augmented by two Panasonic HE-130 robotic cameras. Video switching is accomplished with a Ross Carbonite Black Solo, while signal routing is handled by a Ross NK 34x34 3G SDI router.
Digital signage is provided throughout portions of the worship center building using Panasonic professional displays paired with Hall Research HD over IP video encoders. The IP receivers can be fed a combination of sources including two BrightSign digital signage players and video outputs from the NK router, allowing the service to be rebroadcast throughout the facility.
This amazingly versatile system provides Village Baptist a truly state-of-the-art video and production platform that can serve as the primary visual focal point in worship and teaching from the pulpit for years to come.
LED Equipped
The audio video systems at The Village Baptist Church now feature an LED lighting system for the sanctuary that includes RGBW houselights from the Chroma-Q Inspire series. The platform is lit entirely by Chauvet products, including the Chauvet Ovation 260WW warm white LED ellipsoidals. All stage lights are hung from motorized truss that utilizes an SSRC Pantograph cable management system. Paragon's lighting Ttam also featured a power and data infrastructure that uses ETC Response network nodes and ETC Echo Relay Panels. This entire system is controlled by a Hog 4 Hoglet and Hog 4 PC setup, as well as Doug Fleenor Design 2 and 10 button wall stations for easy lighting control when the console is not in use. This lighting system allows the sanctuary to be bathed in multiple lighting scenarios for use in worship services, various church events, concerts, and more.
Beyond AVL Systems
Also included in the project were custom, illuminated scenic and architectural elements throughout the stage and seating area. Paragon provided auditorium seating along with extensive Fabri-TRAK acoustical elements which included its own, acoustical island ceiling panel system. All scenic and acoustical elements were designed, built and installed by Paragon 360. Second and third phases taking place in 2019 and 2020 include children's spaces, the addition of a children's theater, exterior renovations and updates to hallways and corridors.