Services
Audio
Scenic Elements
Video
Lighting
Rigging
Staging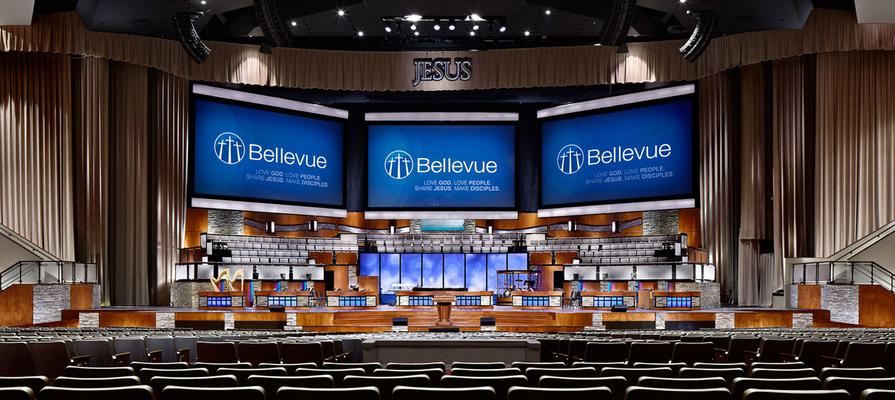 Project Overview
Bellevue Baptist Church, in Memphis, TN, is consistently ranked as one of the largest churches in the Southern Baptist Convention, with over 25,000 members. Bellevue's vision is to be the catalyst for spiritual awakening in their community and around the world. Bellevue revealed the largest change in their main 7,000 seat sanctuary in over twenty-five years on Easter Sunday 2014 with a $2 million dollar stage renovation.
After much consideration, Paragon 360™ was selected for the large-scale, high profile project. The fifteen-week renovation was completed on-time and on-budget. The design, driven by Paragon 360™, Fleming Architects and Bellevue's staff designer, Mark Alexander, was created over a period of six months in 2013. The project has remained one of the banner projects for Paragon 360™.

"We are a church with a strong heritage and Paragon 360 helped us to embrace that heritage while offering a functional design for the 21st century."
Creative Answers to Custom Solutions

The new stage treatments, designed and built by Paragon 360™, not only provide continuity with the recent renovations and updates to Bellevue's lobby areas but also allow for dramatically different worship environments between services. In as little as fifteen minutes the modular staging and lighting elements can be completely transformed allowing the church tremendous flexibility.
Aesthetically beautiful and functionally designed, the new stage, at just over 10,000 square feet, will accommodate intimate band-driven worship, choir-led worship or full-scale theatrical productions. The old retractable choir riser system was replaced by Paragon 360's custom designed, modular choir riser system that includes a mezzanine superstructure. The new choir riser system allows the choir to be elevated six feet providing brand-able, television-ready backgrounds and underneath choir storage. The stage features wood, faux rock and stone treatments, powder coated aluminum framed scenic structures, custom illuminated screen surrounds, acrylic railings, two-sided illuminated scenic elements and Paragon 360's custom DE-360 Squared Drum Enclosure.
"Paragon 360 was a vital part of the successful design and renovation of our Worship Center stage," said Mark Blair, Minister of Music at Bellevue. "They didn't bring a 'cookie-cutter' approach to our project but truly wanted to partner with us in order to get the best result for our unique needs. The fact that they love the Lord and have a heart for ministry gives them an insight to the various facility uses and programs that can occur in churches on a weekly, as well as seasonal, basis."
Demolition and renovation work took place over four months and opened on Easter Sunday, 2014. All of the scenic elements and modular choir loft system was prefabricated by Paragon 360 in Springfield MO. Paragon's model of building elements in a scenic/modular fashion versus traditional construction methods reduces cost significantly. Its ability to prefabricate pieces and transport them to the job site for quick installation minimizes down time saving additional dollars. This brings real tangible VALUE to any project.
Project Goals:
Separation between choir/orchestra
Create clean/branded background
Create on-stage storage options
Create on-stage wing space
Improve screens & their sightlines

Flat floor space for productions

Two service styles/One stage

Solutions:

Raise choir loft
Raising choir allows for background
Raised choir = under choir storage
Change balcony access to stage R&L
Bring (3) screens to center

Paragon 360 Modular Stage Solution

Completely re-designed lighting

Video & Lighting Upgrades
Technologically, the stage project included state-of-the-art video projection on three large screens. The new screens total almost 100' feet of image using new 30k Christie projectors and provide versatile service programming and better visibility throughout the sanctuary. The lighting system was updated with new conventional and moving light fixtures, additional motorized lighting positions and a new control system that enhances the look and feel of the entire worship environment.
"What I appreciate so much about Paragon is that they treat us as family and friends," said Mark Alexander, Director of Design Services at Bellevue Baptist Church. "You never feel like you have a contract with a big corporate company and that you have to work through the red tape. Paragon 360 is the best design team I have ever worked with."

"Its business, but there was a trust. Beyond partnering to do a business venture together, we really were friends. I think what sets Paragon 360 apart is that distinctly human side."