Services
Audio
Scenic Elements
Seating
Video
Lighting
Interior Design
Acoustics
Rigging
Staging
A High-Stakes, Full-Scale Renovation Project - Upgrade to Church Sound Systems, Video & Lighting
After previously trying to upgrade their church sound systems with other partners and watching the AVL renovation projects end poorly, the stakes could not have been higher for First Baptist Naples. When it came time for the full-scale, expansive renovation of their 2100 seat sanctuary, John David Edie, Executive Pastor at First Baptist Naples, FL turned to Paragon 360. The major renovation project would have to stay on-budget, meet meticulously specific objectives, and happen on a very tight timeline. Paragon went through a grueling interview process and was ultimately selected as the church's partner.

The expansive project included a new audio system featuring the best speakers for church auditorium layouts. It also included sophisticated video, lighting and rigging systems, Fabri-TRAK acoustical treatment, interior design, seating, and Paragon 360's custom scenic, staging, and architectural elements.

Design work began in February of 2017 and the entire project was completed and unveiled in August of 2018—on time, on target, and on budget. It's still among the best church audio systems in the country.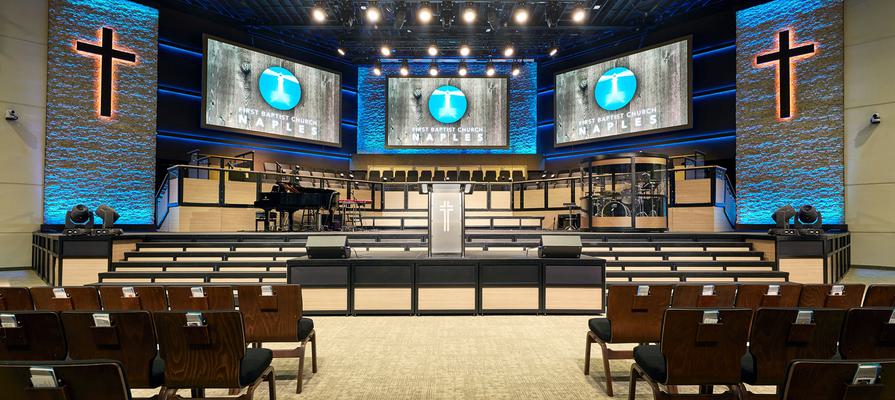 A Sound System for Church Participation: State-of-the-Art Audio Capabilities That Inspire Worshipers
The First Baptist Church Naples is now equipped with one of the most inspiring church audio systems you could hear. The entire sanctuary renovation spanned two years and kicked off with a comprehensive overhaul of their existing church sound systems. The new audio systems installed include some of the best speakers for church auditorium layouts, as they were designed to handle a wide variety of uses, ranging from traditional and modern worship services to large-scale concert events. Meyer Sound Leopard series line array loudspeaker systems were chosen along with UPA and UPQ series loudspeakers for outfill and UPJunior loudspeakers for front fill, offering outstanding coverage and performance to the entire audience area. Low frequency reinforcements include three 1100 LFCs arranged in cardioid to focus the sub-bass energy to the audience and away from the stage area while offering tremendous output capability.

Loudspeaker processing is handled by a pair of Galaxy 816 processors and the entire loudspeaker system is monitored by the RMServer. Front of House mixing duties are handled by a DiGiCo SD5 console with the addition of a Waves Soundgrid Extreme Server. The system will fully support all 74 floor pocket inputs along with 28 wireless microphone systems and 32 additional inputs from a portable stage rack that can be used anywhere on stage for special events. All 144 microphone inputs are processed by twin, 32-bit ADC converters within the Stadius microphone pre-amps. The broadcast audio mix is managed by a DiGiCo SD10 also with the addition of a Waves Soundgrid Extreme Server. A Presonus Monitor Station manages multiple studio reference monitors for the engineer. The video control room utilizes a DiGiCo SD11 to manage all local sources from within the control room along with any audio channels required from the network. All three consoles are connected via fiber optic running at 96K.
In addition to the existing 14 channels of Shure UR series wireless microphone systems, the church sound systems feature an additional 14 channels of Shure Axient systems, including new hand-held transmitters with KSM9 capsules. All wireless microphones were routed through Shure antenna distribution via RF Venue antennas. All 28 new transmitters along with 20 IEM receivers are powered by Shure's lithium-ion rechargeable batteries with charging cradles for all devices. Monitoring for the stage includes 20 Pivitec mixers controlled via iPad's for the band, praise team and orchestra members. All 20 Pivitec mixer stereo outputs are connected to 20 Shure PSM1000 IEM transmitters for a completely cable-free monitor environment on stage. For choir monitoring, close proximity Meyer Sound MM-4XP speakers were distributed throughout the choir loft to keep the interference with the Front of House system to a minimum while offering a pleasing monitoring experience for all members of the choir. Eight traditional floor monitor mixes powered by QSC amplification are available via patch-bay to multiple floor pockets distributed throughout the stage.
A multi-channel Williams Sound HHS-132D was installed to handle all of the hearing assistance needs for the auditorium. This system allows for very high quality audio transmission along with the capability of multiple audio channels for the user to select from. FabriTRAK® acoustic treatment (designed, provided and installed by Paragon 360) was deployed on the back and side walls to aid in controlling the sound in the auditorium, along with making a dramatic change to the aesthetics of the room. A unique design layout with FabriTRAK® utilizing with custom colors achieved the visual experience that First Baptist Church Naples was looking for in the space.
Inside the Design: The Technology of FBC Naples
"I absolutely trust Paragon's Audio Design capabilities 100%. It is a phenomenal system."
Vivid LED Walls by Prime View
The initial phase of the video system renovation focused on the installation of three Primeview 18' x 9.8" PRVLEDCUS40 3.9mm True Black Indoor LED Displays. The center display can be lowered into the upstage set using an ETC Prodigy theatrical lifting system to expose the Baptistery. A tvONE CORIOmaster Video Processor provides the video content to the LED Displays. Initially the existing Standard Definition Video Production System produced the content for the LED Displays, the CORIOmaster handled the upscaling and image detailing very well.
The second phase of the project took place in the Summer of 2018, which involved a complete renovation of the sanctuary, platform, lighting systems, and the video production system. All new HD video equipment was installed in a new Control Room that was renovated specifically for the application. A new Machine Room was also part of the renovation. Ross Video components are at the heart of the video system. All video signals pass thru a 64 x 64 Ultrix Series router which has a multitude of capabilities. John Patterson, Media Director at First Baptist Church Naples, requested the capability to have any available video source in the system displayed on a Multiview Monitor. The Ultrix Series Routers provide this capability along with seamless switching between sources. The seamless switching makes the Ultrix Router a viable basic backup to the Main Switcher. Numerous other feature are also provided by the Ultrix Series.
The Master Control Video Switcher is a Ross Carbonite Black 36 IN x 25 Out Switcher Chassis with a Carbonite Black 36 – 3 ME Control Panel. Three Sony 65" 4K Pro Displays provide control room monitoring. A TRIA-3-B Clip Server provides content storage and retrieval with an additional AJA Ki Pro Ultra Plus capable of simultaneously recording four HD SDI sources. A Ross Open Gear chassis houses sync and distribution components. All Ross components are Networked and accessible via the Dashboard touchscreen control surface. The HD 1080p output from the primary cameras provides the video signal to the control and switching equipment. Live video content is also available from two Panasonic AW-HE130WPJ HD PTZ Cameras and four Marshall CV350-5XB POV HD Mini Cameras with Powered Zoom Lenses. To update First Baptist Church Naples' internal Cable TV system, four ZeeVee ZvPro820-NA High Definition Video Encoder/QAM Modulators were installed. The existing ClearCom production intercom system was expanded to include new FreeSpeak II Digital Wireless Beltpack Transceivers. The final product is a very capable and flexible video system that will serve First Baptist Church Naples for many years to come.
First Baptist Church Naples - Naples, Florida
"I've been pastoring local churches for 48 years, and I have never seen a more effective design firm that gets the job done like Paragon 360."
"Paragon 360 is one of the only design firms in the country that can do everything that you need for your worship center renovation. You're not going to piecemeal it out. There's no need to, and you don't want to. They can do everything you need done."
All LED Lighting Systems

The lighting systems at First Baptist Church Naples went through an extensive renovation during this time as well. Paragon 360 upgraded the entire system to LED equipment, removing the need for dimmers. Front lighting for the majority of the stage area used Chauvet's Ovation E-910FC, a full color mixing LED ellipsoidal with full RGBA-Lime color mixing. This very quiet, RDM capable fixture, features a very flat, even field of light with superior color mixing. In addition, (20) High End Systems SolaFrame 2000 fixtures were installed to be used for front-lighting. The SolaFrames, being such a powerful automated spot fixture, give First Baptist Church Naples the flexibility to use the fixtures for front lighting, and/or creating a very modern worship experience.
Backlighting was achieved by using the Chauvet Rogue R3 Wash fixtures, which is proving to be a workhorse with its bright, evenly dispersed light, smooth color mixing, and 12-49 degree zoom range. The upgraded house-lighting system features Chroma-Q's Inspire XT fixture, which has a high quality white and colored output that is absolutely, stunningly beautiful. The Inspire XT is extremely bright, energy efficient, and provides First Baptist Church Naples with a worship environment that is completely immersive, inspiring and impactful. The system is primarily DMX over Ethernet using ETC Paradigm and ETC network nodes, with some traditional DMX infrastructure to support the embedded lighting in scenic elements. All of this is easily controlled with a grandMA2 lighting console, using 11 universes of DMX control.
"It was eye-popping for many of our people to walk into the worship center. We have heard nothing but wow – what quality!"
More than Audio, Video & Lighting
Also included in the project were custom, illuminated scenic and architectural elements throughout the stage and seating area in addition to a custom modular stage with a completely modular floor pocket system. Paragon provided over 1,000 wooden, modular chairs along with extensive Fabri-TRAK acoustical elements that all matched Paragon's interior design specifications. All scenic and acoustical elements were designed, built and installed by Paragon 360.