Services
Scenic Elements
Video
Lighting
Interior Design
Acoustics
Staging
Project Overview
Paragon 360 completed the first major sanctuary renovation for Prestonwood's main, 7,000 seat campus in Plano, TX in 2023. While Paragon was involved in a scenic and staging renovation of the main stage space in 2011, this marked the first major technology upgrade since the 1999 opening of the Plano campus. Unlimited Visibility, (UVLD) and Paragon 360 worked together on design while Paragon 360 and Xperience Construction handled project execution exclusively. The primary objective of this extensive renovation project, aside from modernizing and updating equipment, was to enhance the functionality of the stage space. This improvement will also streamline the transition from regular church service setups to the Gift of Christmas productions while minimizing the need for equipment rental.
The immense, multi-million-dollar project encompassed the installation of new stage lighting and rigging systems, custom acoustical work, new LED walls, a 6,000-square-foot custom-designed modular floating stage, custom band risers, illuminated tower scenic units surrounding the room, and general construction work provided by Paragon's own Xperience Construction.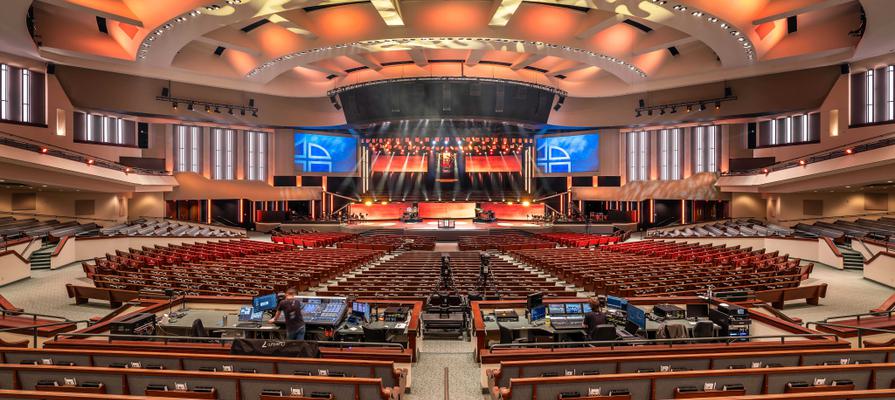 "Overall, the scope was pretty ginormous because of the size of the room, but also because of the elements that we were requiring them to come up with, and I was absolutely blown away by how smooth this went."
Engulfed in a Dynamic Visual Experience
Paragon expanded the stage lighting system with multiple high-end upgrades, providing a dynamic visual experience for congregants. Key light was converted to moving lights using (32) Ayrton Huracan LT LED luminaires designed for long-range applications. Additionally, (52) Ayrton Eurus Profiles were used for both key light and general effect lighting, while (42) Martin Mac Aura XB wash fixtures were added as backlighting. Three new motorized lighting positions were added to the existing setup, along with custom mounting systems for the catwalk-mounted Huracan LT units, allowing them to be pulled onto the catwalk for maintenance. Over 2000 meters of Enttech RGBW LED tape light, powered by Meanwell power supplies and Enttech control drivers, were used to illuminate Paragon's custom scenic, staging, and architectural elements. Paragon installed (2) new MDG ATMe Haze generators to enhance the dynamic visual experience. The control system was also upgraded using a new GrandMA3 processing unit.
The new stage design features a stage full of stunning, high resolution ReveLux Marvel LED walls with a 2.6-pixel pitch. Three new curved ReveLux LED videowalls are on the stage floor providing background imagery, and two walls are flown left and right surrounded by moving lights, while many individual tiles are intermingled with lights on trusses over the stage. There are over 248 ReveLux panels in the new system using a Novastar MX processing platform with content provided by PRG Mbox media servers. The walls utilize a high refresh rate specifically tuned to look fantastic on their 4K camera system.

A Fully Customizable Stage
One of Paragon's biggest challenges on this project involved designing, fabricating, and installing a custom-raised flooring system on over 6,000 square feet of stage space. More than 300 custom 6" modular framing decks were used to elevate the performance surface, enhancing the audience's viewing experience. Open channels in the framing, in both the x and y axes, allowed for limitless configuration of power and low-voltage cabling through floor pockets with movable stage decks. The flooring was not only interchangeable in location but also featured a custom finish on both sides, with one side presenting the normal Sunday look and the flip side showcasing a production look. Custom stage extensions were constructed to accommodate sub-placements.
The stage-facing cover was designed and built to be modular, allowing for removal during performances. It was constructed with an acoustically transparent fabric front and incorporated the same finishes and built-in, LED accents to seamlessly integrate with the overall stage and sanctuary aesthetics.
Paragon also designed and built over 50 custom scenic columns that were wedge shaped with integrated RGB, LED lighting accents. These were placed along the back wall of the stage, extending out into the house and enveloping the audience in the experience. Extensive acoustical work was also provided and installed throughout the audience space.
Your Vision without sacrifice
Paragon's Xperience Construction handled all of the general contracting work, including the demolition of the old steps, new drywall work on the high side areas of the stage, and painting across the entire stage and proscenium area. Paragon had to complete this project without missing a single Sunday service. This requirement led to a longer and more drawn-out project with highly coordinated and segmented work.
The advantage of having one company manage the work proved to be far more cost effective with expedited project delivery and higher coordination. When combining high-end AVL work, custom rigging solutions, acoustical work, custom fabrication and construction into one team, you end up with a comprehensive design-build solution that brings value to vision.

Extraordinary Project
"One of the challenges of the main worship center here at Plano is that we had to figure out a way to keep meeting in the space and make it look decent as Sunday was going to happen each week" explained Bryan Bailey, Media Director at Prestonwood Baptist Church. "I would prepare our Executive staff for an ugly Sunday and we never had an ugly Sunday and that really exceeded our expectations for how we would be able to operate during the renovation."
Paragon 360 has recently completed other projects for Prestonwood, such as technology enhancements in the Children's spaces at the Plano campus, in addition to a complete sanctuary renovation of the North campus in Prosper, TX. Stand by for more updates on those projects coming soon.