Services
Audio
Scenic Elements
Video
Lighting
Acoustics
Rigging
Staging
Crossway Baptist Church
Crossway Baptist Church is one of the fastest-growing churches in Springfield, MO. In 2012, the church contracted Paragon 360 to provide audio, video, and lighting systems for a new worship center. Our team has since been involved in several additional projects at the church including an extensive acoustical project in 2020. Most recently, Crossway has reached out to their longtime friends at Paragon for a major remodel of their sanctuary space.
"If someone asked me about using Paragon, I would 100% give the green light to do it. The feel of our room has changed for the better since Paragon came into this project."
Platform Redesign
The main goal of this project was to improve the functionality and flexibility of Crossway's platform area by removing the permanent choir loft. Removing the choir loft added tremendous flexibility to the space by opening up the real estate on the platform and providing a flat floor to work from. Crossway invested in Paragon's signature custom, modular choir riser system to accommodate the choir. This system allowed their team to set up the platform in any way they needed while ensuring the choir loft was appropriately sized for the choir. Removing the choir loft also allowed Paragon 360 to re-imagine platform entrances and exits and add entry points directly to the platform's center that are not visible to audience areas. Paragon also created a "blinder wall" that hides the new upstage entry point and creates an elevated platform that can be used during productions.
Modernizing the Space
Paragon 360 brought a completely modern look and feel to this project, especially in the platform's design. This included multiple self-illuminated, modular architectural elements like baptistery treatments, back wall elements, custom screen surrounds, custom modesty walls, camera platforms, front-fill speaker enclosures/grilles, and a custom drum enclosure. Every scenic and architectural element was fabricated at Paragon's shop and then delivered to the project site for quick and efficient installation. This design-build solution took months off the project delivery time.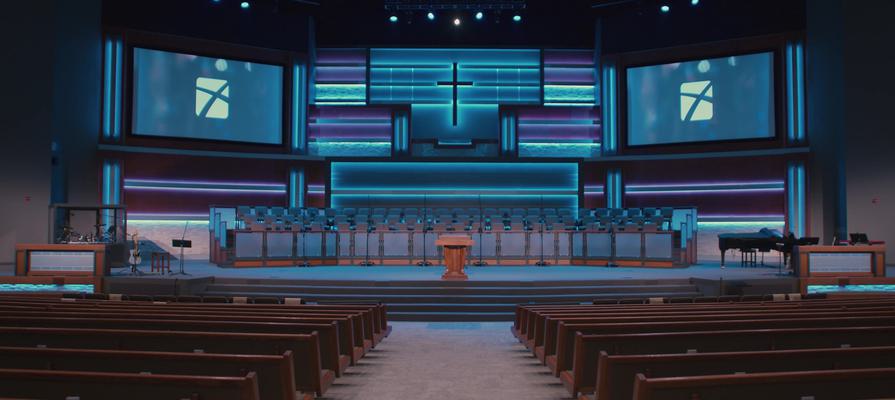 AVL Upgrades
Upgrades were also made to the existing audio, video, and lighting systems. Paragon 360 changed all the main platform front lighting to LED fixtures and installed all new LED house-lighting systems and additional moving lights. Motorized rigging systems were added for all of the over-platform lighting positions. New confidence monitors and carts were added for the front row of seating. A new third middle screen was also added with custom motorized controls. All floor pockets and AVL interconnects were upgraded for added connectivity and flexibility. New front-fill speakers were added to the existing audio system, along with relocated subwoofers. The entire audio system was retuned for enhanced performance. In addition, Paragon's signature choir monitoring system was installed. Paragon also provided significant acoustical work in the space that included use of our FabriTrak product on the large side walls right and left of the room that was designed to match the existing paint scheme of the room.