Services
Audio
Scenic Elements
Seating
Video
Lighting
Interior Design
Acoustics
Rigging
Staging
A Stunning Modern Sanctuary with Functional AVL Enhancements
With a need for evolution, Whitesburg Baptist Church in Huntsville, Alabama found themselves at a decision: to build a new facility or a church renovation to meet the current and future needs of the church. They envisioned an intimate, modern, versatile space to hold their worship services. Paragon 360 was able to bring that modern feel into their current space at a fraction of the cost of a new building.
The project involved an expansive church remodel of their sanctuary space. The stage area was re-designed for functionality and aesthetics using Paragon's custom staging, scenic and architectural elements, improving the transition between their three different services. The project also included integrating the churches current audio equipment into a more holistic system, updating their video and lighting systems, addition of extensive acoustical work throughout the space and providing new auditorium seating. The result is a beautiful, functional first-in-class space that will increase engagement and allow growth.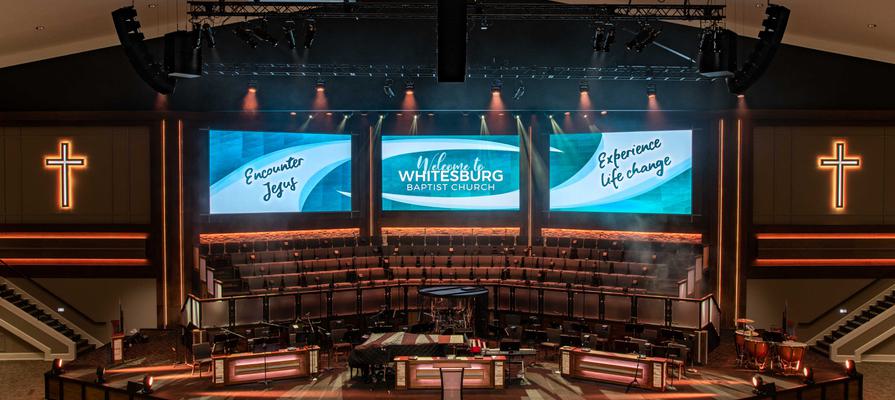 Excellence in Audio through Existing System Optimization
The Paragon audio team had three main goals for their portion of the Whitesburg renovation. They were looking for even coverage of sound, improving the choir monitoring system and the addition of modular floor pockets.
Whitesburg Baptist already had a strong audio system in place and wanted to integrate some of their existing equipment into the new holistic system. To diagnose the need, Paragon started with audio testing in their current space. They identified that one of the biggest issues was the existing loudspeaker system did not adequately cover the entire sanctuary evenly.
Paragon drew up their space in an acoustic modeling program, took what the church already had, redeployed it, and then made improvements. Paragon redeployed Whitesburg's speakers and monitors as balcony fills. The two-line arrays were expanded into three for a major improvement in sound coverage. Paragon maximized what the church already had and improved it saving them significant dollars.
Another issue that needed to be addressed was the choir had difficulty hearing the pastor, the music and general monitoring issues. Paragon outfitted the choir with a close-proximity monitor system that has become a high-end industry standard. And, as it was a great solution for the choir, the same monitoring system was also implemented for the orchestra.
With many inputs on their platform, complex cabling and racks that were difficult to use due to location, Paragon repurposed and moved all the furnished racks under the new module choir loft. The majority of their infrastructure is now located downstage in new modular cubes so all their cables are kept short and the stage appearance is clean.
In the Client's Words
"Paragon 360 has enabled us to use our space where we are creating environments of relationship. Paragon has taken such a personal interest in this project."
LED Lighting Enhancements for Efficiency and Engagement
The lighting system at Whitesburg was powered by a variety of electrical panels spread across the building. Paragon installed relays capable of powering the entire lighting system from a centralized location. This also makes it easier to power down the system when it is not in use and increase the overall lifespan of the equipment.
There was a need to upgrade their equipment from incandescent fixtures to LED to bring them into the latest realm of technology. Paragon upgraded all of their theatrical lighting to LED fixtures and upgraded their house lighting to energy efficient LED fixtures.
Paragon also upgraded the Whitesburg DMX control infrastructure to an Ethernet network system, allowing more universes of data over less physical wiring, saving installation dollars, while offering the flexibility to quickly and easily choose which universes go where.
New LED Screen Improves Visual and Spatial Experience
Whitesburg already had a respectable video control room and production system in place - what they were lacking were broadcast-friendly cameras and a better viewing experience. Three new Panasonic AJ-PX5100GJ cameras with full 2/3" 3MOS 3 were added to provide precise natural colors with Fujinon 2/3" HD broadcast lenses. Three Panasonic AW-HE130BPJ PTZ cameras were also included to provide more camera angles and flexibility, especially if camera operators are not available. Initially the church wanted to relocate the current projection screens inward to draw the eye to the stage. They also wanted a configuration that would allow a center screen to be rolled up to reveal the baptistry.
Through the design process the Paragon team realized that the church could increase vertical height on the choir loft and increase separation from the orchestra if LED screens were used instead of projection. The LED walls support the high ambient light levels in the sanctuary far better than projection. Paragon also developed an LED wall solution that uses a ETC Prodigy lift to smoothly raise the center LED wall up for baptisms.
The video control room was also completely renovated using most of the equipment that the church already owned. Paragon provided a new Ross NK-3G34 router with dashboard computer and software to bring added control. Video patch bays were also included to make cable changes fast and easy. The engineering aspects of the system were relocated to another space so production room space could be optimized.
A Modern, Yet Comfortable Place of Worship
As with all aspects of this renovation the main goal was to upgrade and modernize the space. Whitesburg aimed to improve the flow of the sanctuary. The Paragon team designed the space to open up a couple of aisles to allow ease of movement in and out of the room and to the stage. Comfortable seating was also a priority for Whitesburg. Paragon replaced the more traditional pews for Vista Auditorium Seating from Sauder. These upholstered seats are more comfortable but have wooden aisle panels for a more formal appearance. Paragon also designed, fabricated, and installed custom, scenic and staging elements for the renovated space that included extensive illuminated walnut wall treatments, modesty walls, a modular choir loft for over 100 choir members, front of stage facades and various interior treatments. The scenic elements designed and built by Paragon Fabrication combined with the new paint schemes, flooring and seating completely transformed the space, while creating an environment conducive to contemporary worship.