Services
Audio
Scenic Elements
Video
Lighting
Interior Design
Acoustics
Rigging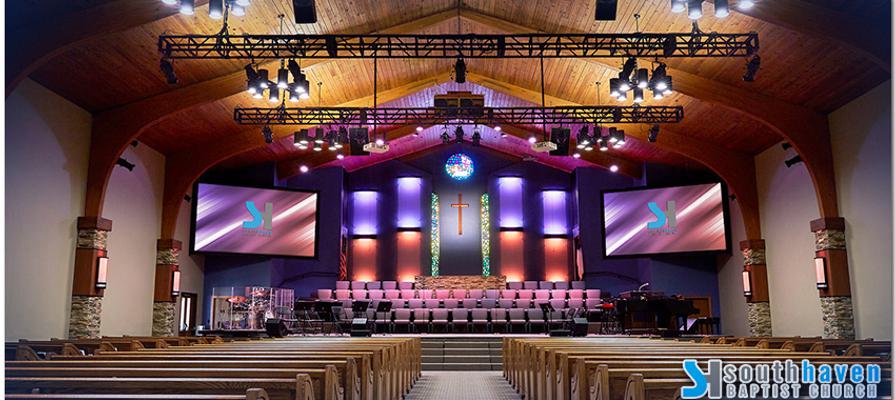 Project Overview
The renovation of the 500 seat sanctuary at South Haven Baptist Church in Springfield, Missouri, was years in the making with conversations starting in 2013. It would be 2015 however before Paragon 360 was contracted for the work. A long-time client of Paragon 360, South Haven had completed many smaller projects with Paragon over the years. This was the first time however that South Haven had ventured into the realm of a large-scale sanctuary renovation project. Design work began in the Summer of 2016, and installation was completed in April of 2017 on-time and on-budget.
"Paragon has a great reputation in the industry. I think they understand better than anyone else out there what churches are looking for today."
Lighting & Scenic Elements Change the Experience
Custom scenic elements played a pivotal role in the renovation of South Haven's sanctuary. Paragon 360 designed, fabricated, and installed (14) wall sconces with LED lighting units mounted to columns that featured faux stone and wood elements. A new baptistery was added with matching faux rock and wood takes center stage on the sanctuary platform. In addition, (8) illuminated, acrylic tiles were designed into the back wall.
The lighting system includes (26) ETC Source Four Ellipsoidal fixtures, with dimming powered by (10) ETC SmartBar 2 units. The new lighting system also includes (14) Chauvet COLORDash Par Hex 12 fixtures, along with embedded LED lighting in the scenic elements. The entire system is controlled by a High End Systems Hoglet lighting console.
One of the features of the South Haven sanctuary that the church requested not be altered was the rich, dark, all-wood ceiling, which had long been a centerpiece of the church's history. To accommodate this request, the Rigging Team from Paragon 360 used custom-made beam brackets to rig the new truss to the existing structure. A total of 90′ of truss was hung, using 18″ x 12″ black powder coated sticks from Applied Electronics. This resulted in allowing a modern lighting system to be installed in the church, while retaining the classic look of the church's historic ceiling.

Audio System Upgrades
The audio system had previously been upgraded by Paragon 360. During the design process of the South Haven project, the Audio Designers at Paragon 360 were able to take the church's current audio system and augment it with new components, while maintaining the usability of the current system. Not only did these upgrades breathe new life into the audio system at South Haven, they also resulted in saving the church a substantial amount of money that wasn't spent needlessly to replace already-existing system capabilities. The upgrades to the audio system included a new BSS Blue 100 Processor, and the addition of multiple Audix Microboom 84″ MB8455 Choir Microphones. New EAW front fill speakers were also added to the existing system.
"Paragon talks a lot about being on-time and on-budget. They certainly fulfilled that part of it. Paragon did exactly what we expected. They are top notch and brought about a vision, a set of values and then gave life to it."
Another Project Completed On-Time & On-Budget
All of the custom scenic and architectural elements were prefabricated by Paragon 360 in Springfield MO. Paragon's model of building elements in a scenic/modular fashion versus traditional construction methods reduces cost significantly. Paragon's ability to prefabricate pieces and transport them to the job site for quick installation minimizes down time saving additional dollars. This brings real tangible VALUE to any project.