Services
Audio
Scenic Elements
Seating
Video
Lighting
Interior Design
Acoustics
Rigging
Staging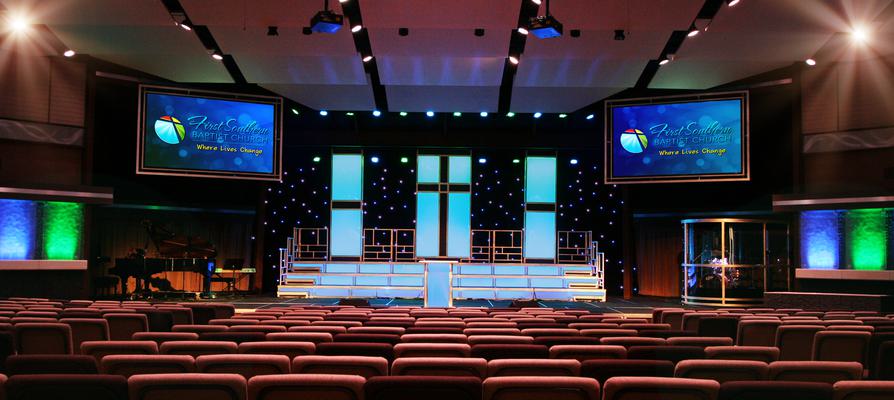 Project Overview
First Southern Baptist Church in Bryant, Arkansas is one of the thousands of 600-seat churches across this country that was at a crossroads. Their church space was designed and built in the 1970s, and very little had been done since that time. While they had a healthy church, they were not growing quickly, due in part to the look and feel of the first impression of the space. The church was looking at building a new facility for an estimated $7 – $10 million in total construction costs. This project was not going to be done quickly due to the need for fundraising in a weak economy. Over the course of a couple meetings, Paragon 360™ opened the church up to the idea of renovating their current sanctuary space. The church asked Paragon 360 to lead the project.
The end result was a complete sanctuary renovation that included the removal of pews, carpeting, and bad seating areas right and left. It was replaced with stained concrete, flexible seating, and lit milk glass side walls. Ceiling panels were put in to hide the older wood, circular dome ceiling. The old stage was removed and replaced with Paragon 360's modukar staging system, allowing for flexible stage arrangements. Multiple scenic and architectural elements were designed into space along with all new audio, video, and lighting systems and a new LED house-lighting system. All custom scenic, staging and acoustical ceiling panel elements were designed, built and installed by Paragon 360.
"After completion, our congregants walked in and were amazed that a 1980 facility could feel like 2013."
Audio, Video & Lighting Systems
Lighting systems included ETC fixtures, new dimming and distribution with High End Systems control. Several Chauvet moving lights were included along with over (50) LED units for set lighting and (46) LED units for house-lighting. Audio systems include Bose and Electro-Voice loudspeakers and amplification with Symetrix processing. A Yamaha M7CL console handles (48) inputs from the stage including (8) Shure wireless systems and traditional monitor and in-ear mixes. The Video system included an Analog Way presentation switcher, two Panasonic PTZ cameras with Vaddio remote control. One Sony NX5U camera was used on a tripod, and a Blackmagic ATEM 1 was used for camera switching. Live Streaming was handled by a Livesteam Broadcaster. A Blackmagic Hyperdeck is used to record all church created content.
"In theory, Paragon 360 renovated our space but in reality, to me, it's a new sanctuary," says Pastor Mead, Pastor. "This sanctuary feels nothing like the old. It is a new sanctuary, it is a new experience, it is a new feel, it is a new day in the life of our church."
"Paragon was able to do for less than $1M what we thought was going to cost us $7M - $10M. On top of that, they did it in 6 months."