Services
Audio
Scenic Elements
Video
Lighting
Interior Design
Acoustics
Rigging
Staging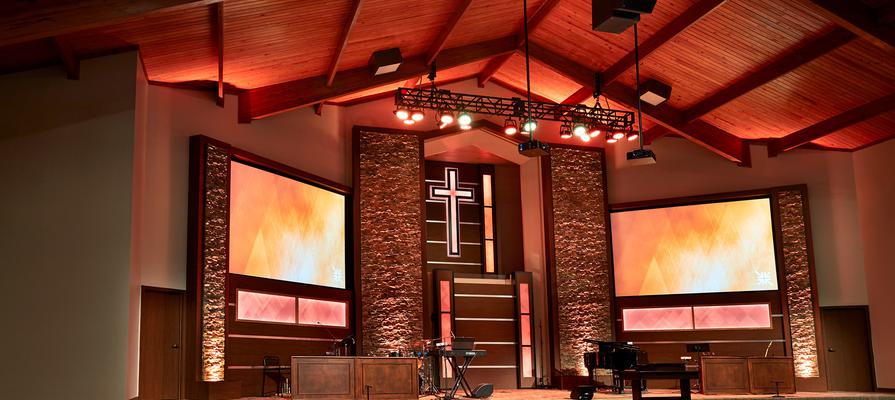 Project Overview
Harvard Avenue Baptist was looking for a full-scale sanctuary renovation project. However, it was a small church with a fairly limited budget. The church turned to Paragon 360 to lead the design effort and get the job done. The project included new audio, video, lighting and rigging systems, FabriTRAK® acoustical treatment, and Paragon's custom scenic and architectural elements. Design work began in May of 2016 and installation was completed in June of 2017. Paragon was selected for the project because of their vast experience with church renovations and the fact that they could lead design and implementation of the whole project.
"The Paragon staff is very professional. They have a sense of excellence, and they really have a customer-first mentality."
Audio Systems
The new audio system that was installed as part of the Harvard Avenue project greatly enhanced the contemporary style of worship that was taking place in the acoustically traditional environment. The Paragon 360 Audio Team's design included a Worx Audio X5 all-in-one compact line array, with a Worx TL218SS super sub and Worx 8A fill speakers. This gives the audio system the ability to accurately cover the entire sanctuary without being visually obtrusive in the smaller traditional space.

Harvard Avenue also received a substantial upgrade in the monitoring system for their Worship Team & Band members. Utilizing Community MX10 coaxial, low-profile monitors, Electro Voice amplifiers, and Behringer P16 in-ear mixers, the new monitoring system resulted in a very clean platform area, and greatly expanded the previous capability of only four mixes during worship. It also gives every band member the ability to control & customize their in-ear mix as needed.
Front of House duties are covered by a Midas M-32 console, paired with a Midas DL32 digital snake. The M-32 is a high quality digital mixer that provides ease of use for volunteer staff, and was a substantial upgrade from the previous analog mixer the church had been using during worship services. Ten channels of Sennheiser wireless microphones with 865 capsules were included with the new audio system, as well as an Audix DP7 drum mic package, which allows close proximity microphone placement on the drum kit for better mix control. An Audix piano microphone system is also part of the new system, as well as Audix choir microphones, K&M mic stands, and RØDE audience mics.
Enhanced Video Systems
The Paragon 360 Video Team designed and installed a new video system that not only greatly enhanced Harvard Avenue's worship capabilities, but also enables live streaming of the church's worship services. At the center of the new video system are two 14′ wide fixed frame screens, with projection provided by two Christie 7,000 lumen projectors. A Sharp 80" Commercial LED Confidence Monitor mounted on the back wall of the sanctuary provides visual cues & text for the Pastoral & Worship staff. A Panasonic remote controlled Pan/Tilt/Zoom camera with 30X zoom lens was also mounted on the back wall, below the 80″ LED display.
A 12×12 HD Video Matrix switcher controls routing of the video signals, with clean switching between sources. The cameras, the output of the Graphics Computer, and external playback sources are all routed through the switcher, and are available for viewing on the video screens independently, as well as on the back wall confidence monitor. A video signal from the router is also provided to Harvard Avenue's Livestream network video interface, allowing for live streaming of the church's worship services & other events.
New Lighting Systems
The new Lighting System at Harvard Avenue consists of (16) ETC Source Four ellipsoidal fixtures for front lighting, and (17) Elation SixPar 300 LED fixtures for back lighting, with the entire system being controlled by a High End Systems Hoglet 4 console. A total of 55′ of black powder coated truss from Applied Electronics was utilized for the lighting system, with two ellipsoidal fixtures located on each side of the sanctuary on tormentor pipes.
The Paragon 360 Lighting Team also utilized an ETC 12 Channel SmartPack Dimmer as part of the new lighting system at Harvard Avenue, which provides for multiple options of lighting environment in the sanctuary during worship services and other events. Multiple Chauvet products were also used as lighting for stage set pieces, including six Chauvet COLORDash Batten-Quad 12 fixtures, four COLORDash Par-Quad 7 fixtures, and four COLORDash Par-Quad 18 fixtures.
"I think Paragon really understands the needs of the church world. From our perspective, being a smaller church, the team was very helpful in listening to the things that we were concerned about and the things that we needed fixed. The cost was exactly what was quoted and you can't ask for anything more."
More than audio, video and lighting
The custom, illuminated, scenic and architectural elements designed, built and installed by Paragon 360 throughout the entire stage area played a pivotal role in Harvard's renovation. It allowed for a much more cost effective project and due to Paragons ability to prefabricate everything and transport it to the jobsite, it made for a very quick turnaround of the space. Extensive Fabri-TRAK acoustical elements that helped perfect the audio design, matched Paragon's interior design specifications. All scenic and acoustical elements were designed, built and installed by Paragon 360.