Services
Audio
Scenic Elements
Video
Lighting
Interior Design
Acoustics
Rigging
Staging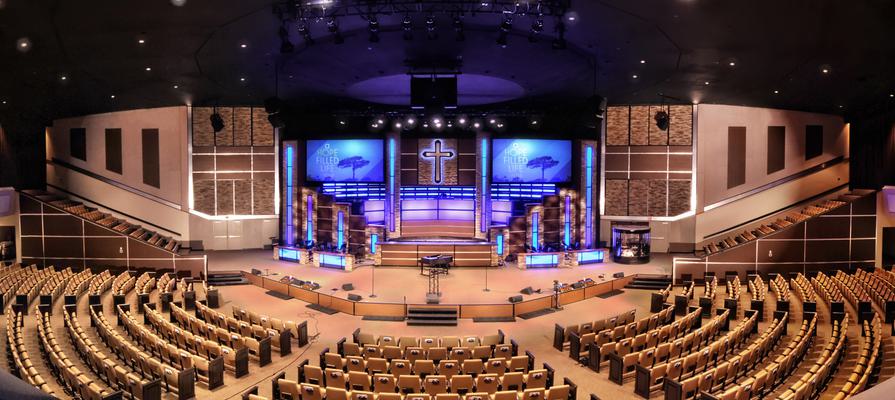 Project Overview
Council Road Baptist Church was established in 1963. The church, with weekly attendance of over 1,500, is located in Bethany OK, a suburb of Oklahoma City. The church is led by Pastor Rick Thompson. In 2014, the church was seeking to carry out a full-scale, expansive renovation of their 1,200 seat sanctuary. Paragon 360 was selected for the project and led the design effort. The project included new audio, video and lighting systems, acoustical work, motorized rigging, custom scenic and architectural elements, auditorium seating, new flooring, interior design work and the painting of the sanctuary ceiling. The project was completed on-time and on-budget in 2015.
"It's not just important to tell Paragon 360 what you're looking for; it's also important to listen to them. What they had to share with us was very valuable. Young and old love this space."
Audio, Video & Lighting Systems
Audio systems feature a new EAW QX series speaker system with SB series subwoofers and micro wedge floor monitors, powered by QSC amplifiers, with mixing by Yamaha CL series consoles over a Dante network. The existing Yamaha M7CL console was upgraded to operate on the Dante network, and re-purposed for broadcast audio. In addition, the audio system contains (16) channels of Shure ULXD wireless microphones and six channels of Shure PSM900 IEM units.
Video systems included new Da-Lite 16×9 rear projection video screens with Sony Laser Projection, and a complete video production system with multiple Panasonic cameras, including PTZ cameras and Ross switching systems.

Lighting systems featured over (60) new conventional lighting units and over (70) LED units, in addition to new architectural control stations. Over 180' of trussing and new dimming distribution provided new lighting positions, with some positions being motorized.

"We started to plan and dream with Paragon 360 and they were actually able to put it into a perfect design. When we saw the first concepts, we knew we had the right company. Paragon 360 listened and created a very intimate space that allows us to have very traditional worship, and then turn right around and have a very modern, contemporary service."
Scenic Elements
Multiple faux woods, stone, and illuminated architectural & scenic elements were designed and built by Paragon 360™ to conceal the older, existing choir loft area, without the need to tear it out. The custom designed elements created an amazing transformation of the sanctuary space. The units feature 23' tall illuminated textured towers, screen surrounds, illuminated scenic and modesty walls. Also provided were large side wall textured treatments, a center illuminated cross, modular, front of stage steps and Paragon's signature modular staging and DE-360 Drum Enclosure.
The renovation also included painting the ceiling black, new paint schemes throughout the room's interior, changing pews to theater seats, new carpet, new stage flooring and acoustical treatment. Over 200' of pleated velour curtain closes off the balcony area creating a more intimate space for various styles of worship while still allowing for maximum seating for special events and productions.