Project Overview
High Street Baptist Church in Springfield, MO partnered with Paragon 360 to make significant facility updates over the last two years. Paragon 360 works with small and large churches, with both small and large projects whether traditional or contemporary. To help High Street Baptist achieve its goals, Paragon partnered in a phased approach to system and auditorium upgrades. These upgrades included both their audio and video systems.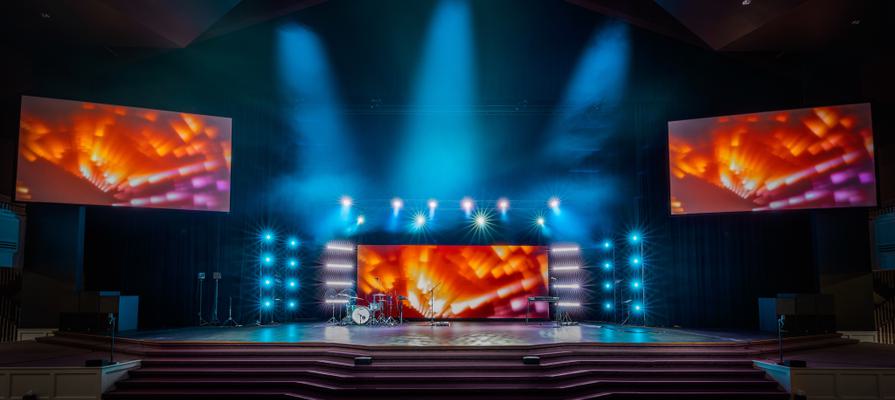 Phase 1: Broadcast Video
First on Paragon 360's list was installing a new broadcast video system. This included the installation of new 4k video switchers and signal routing, as well as two Panasonic 16,000-lumen laser projectors and Da-Lite fixed frame screens for IMAG. At the rear of the stage, a 26' X 10' ReveLux StoryGlass LED wall with a 3.9-pixel pitch was ground stacked for virtual background imagery. The walls look fantastic on camera.
"Paragon worked within our budget and gave us the highest quality option for our space possible. This upgrade has improved the look, feel, and sound of all our services, giving us the flexibility we've never had before. We can serve our church better because of the solution that Paragon provided."
Phase 2: Speaker System
The second phase included the installation of a new speaker systems consisting of two, 10-box Nexo line arrays, Nexo upper balcony fills and front fills. The Nexo NX amps were included for power and processing the main system. There were also 4 additional Danley Sound Labs TH118XL subwoofers added to the units that High Street already had.
"Paragon 360 created an incredible solution for our audio and visual presentation needs," stated Kyle Kicker, Worship Pastor for High Street Baptist Church. "Paragon worked within our budget and gave us the highest quality option for our space possible. Our Nexo and Danley audio system fills our large space the way we need it to, covering every seat very well. Our ReveLux LED wall and laser projectors have completely changed how we use content. This upgrade has improved the look, feel, and sound of all our services, giving us the flexibility we've never had before. We can serve our church better because of the solution that Paragon provided."
Jared Bone, Young Adults Pastor for High Street Baptist Church said, "I think it's worth mentioning that the upgrades Paragon brought us have allowed us greater flexibility in serving all generations of our church. The audio improvements added clarity in sound quality for both the spoken word and music, while the LED wall and projectors have given us a more cohesive look and feel. We're grateful for the solution Paragon provided for our space."
"What I love about Paragon 360 is that we have someone available who can always help us solve the unique problems that a church faces. They have helped us solve our audio and visual presentation issues."