Services
Audio
Scenic Elements
Lighting
Interior Design
Acoustics
Rigging
Staging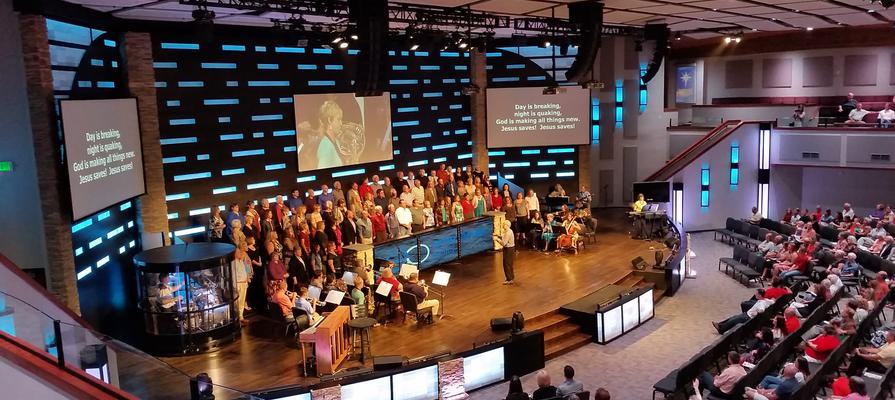 "Paragon understood our needs immediately. We didn't have to explain ourselves. We told them what we needed and they said 'we got it,' and they did."
Project Overview
In the summer of 2013, Paragon 360™ was approached by Emmanuel Baptist Church in Enid, Oklahoma, about the possibilities of a complete sanctuary renovation. Design work started in the Fall of 2013 with project completion in September of 2014, on-time and on-budget.
The church was seeking a new sanctuary that would enable them to quickly transition from a traditional service with choir & orchestra to a contemporary, band led praise team service in as little as 20 minutes. The ability to make this smooth transition quickly was important to Emmanuel Baptist, in part because of the growing popularity of their contemporary service which was being held in a smaller venue. Creating a single worship area that could reach the young and the un-churched, while still remaining welcoming to congregation members seeking a more traditional service, was of paramount importance to church leaders. Additionally, the church wanted to create a smaller modular choir loft to replace the over sized wooden platforms from its original construction.
A Turn-Key Approach
After interviewing several companies, Emmanuel chose Paragon 360™ due to their ability to design and manage the entire project as a turn-key operation. The church was interested in the architectural elements that Paragon 360™ would be able to deliver but also needed the audio, video and lighting to be part of the project, as well as acoustics and rigging. The church had the desire for all of this to be designed with one central vision and to be delivered as one project. They also liked the fact that Paragon 360™ had access to almost any equipment manufacturer from an AVL standpoint and operated with no brand loyalty at all.
By providing a turn-key design, Paragon 360™ was able to deliver a fully integrated cost-efficient solution. Beyond that, however, Paragon 360™ offered something more: experience and a true willingness to listen.
"Paragon understood our needs immediately," said Pastor Wade Burleson. "We're reaching the unchurched. When they come into this facility, they are comfortable. It's about people, and this facility that Paragon designed allows us to reach people. Paragon hit a home run with this one."
"We have finished other remodels in the past, but I don't know if we have ever finished one before where no one was unhappy with the result. That was certainly the case with this one. Our congregation loves it."
Audio
The new audio system, which featured JBL VERTEC VT 4886 subcompact line arrays, Crown amplification, and Yamaha M7CL Consoles, was designed to be very flexible and handle a wide variety of needs that stretched from traditional worship with orchestra and choir to contemporary-band led worship. The system was also designed to support national touring artists and productions as well. Speech intelligibility was essential in the design which necessitated the addition of acoustic treatment to insure the speaker system could deliver quality audio to every seat in the sanctuary.
A custom isolation transformer splitter routes (80) stage inputs to FOH and to Broadcast Audio. Seven wireless IEM systems are used during contemporary worship, allowing for nearly zero stage volume, along with Paragon's DE-360 Drum Enclosure, keeping the main PA system sounding great from the front row to the top row of the balcony.

Lighting
New lighting systems featuring dimming and control, fixtures and motorized lighting positions played a substantial role in the renovation and the new experience that has been created in the space. The entire sanctuary is also lit in LED house-lighting as a result of the renovation.
Paragon 360™ designed and built several architectural and scenic elements in the space that featured faux rock, stone and wood treatments that included a rear, illuminated wall, stage caps, columns and wall sconces. Additionally Paragon built a scenic video wall as a brand-able background for presentations that consists of six, three over three 80" flat panel displays that provide a new level of flexibility and creative opportunity for media presentations. Paragon also covered the older wooden ceiling with a new acoustic island ceiling.
All of the custom scenic, staging, architectural elements and acoustical ceiling clouds were designed, built and installed by Paragon 360. Video was not provided by Paragon 360 on this project. Although the renovation project at Emmanuel Baptist was ambitious, Paragon 360™ succeeded not only in meeting but exceeding expectations. Upon completion of the renovation, Pastor Burleson remarked, "Paragon was able to ask some really tough questions that pushed us to make some very important decisions. That ended up being critical to the success of this in the end."