Creating Spaces for Extendibility
Paragon 360 and Paragon Fabrication worked to create a new office space for Supper Co. in Springfield, MO. The growing marketing agency leased a space in downtown Springfield and needed infill to make it an operational space. They reached out to Paragon to create a free-standing design that would allow flexibility and collaboration without mounting anything to the walls (at the landlord's request). The free-standing structure is expandable and portable, so Supper can move the modular office pods and furniture to a new location if required.
After discussing the needs of the space with the owners, Paragon discovered that Supper needed a custom office design that gave them flexibility in how and where they worked as well as collaborative spaces where the team could work together. Paragon met these needs by creating modular office pods, sit-stand desks, and custom tables.
Custom Designs for Creative Spaces
Paragon created high-quality custom products for Supper Co. without breaking their budget. Paragon used hardwood trim and a vinyl surface on the desks and tables to save money and retain durability. This construction method makes the furniture feel premium to the touch but significantly more affordable than traditional hardwood tabletops while delivering a more functional, durable surface.
Paragon created sit-stand desks with matching custom-fabricated table tops for each modular office cube and bar-height tables to create more working space within the office. These pieces allow team members to work wherever and however they want, providing flexibility and collaboration. A conference room table was also designed to fit the space perfectly. Custom metalwork was included in the design of the tables, featuring the Supper logo at each corner of each table.
When Supper is ready, they are positioned for further expansion in the space. The open office concept allows for additional free-standing office pods to be added to accommodate for growth. This solution enables the company to grow in its current space while also giving them office pods and furniture assets to leverage in future spaces.
Renowned to Renewed
Being located in a historic building in downtown Springfield, this transformation wasn't without some challenges. Due to the historical classification of this space, there were limitations to the flexibility in the infill. To reduce impact to the building, mounting anything to the walls or ceiling was an impossibility. The Paragon team was able to solve this problem with an elegant, free-standing solution.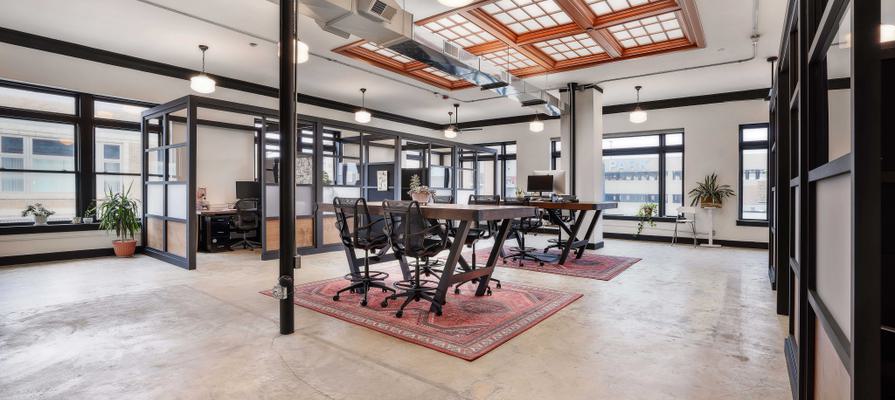 Single Stop Shop
Paragon Fabrication handled every aspect of this project from design to installation. By working with Paragon, Supper Co. was able to hire one company to do all of the work. There's no stress in trying to contact multiple vendors - at Paragon it's a one-stop-shop! Using our design-build approach, Paragon was able to design and build every element of this project in-house, and then deliver and install the pieces when they were finished. This made for a short project timeline and a seamless transition for Supper.

Paragon is a fantastic partner. They saw our vision and brought it to life, while finding innovative solutions to any challenge we faced.