Services
Scenic Elements
Lighting
Interior Design
Acoustics
A Modular Solution for An Inviting Experience
When OakStar Bank engaged Paragon, the primary project objective was to provide a custom, temporary infill solution that would enable OakStar to create a beautiful and inviting space with pieces that could be leveraged for their permanent location. We delivered with a design-build solution that would have the location ready in a few short months in the Prairie Fire area of Overland Park, Kansas, with an experience tailored to the bank's customers in the area.

Starting from a white box, Paragon worked with the bank's architecture firm on the plans and designed and built the entire interior space, including wall partitions, furniture, filing systems, wall art and sculptures as well as audio and video solutions. The Paragon team also designed with lighting and acoustics in mind, building out a space that created a stunning and memorable environment.
Custom Fabrication to Bring a Modern Bank to Life
The OakStar brand was integrated throughout the interior design. The partitioned walls, used to divide the office space, were made of acrylic and had various heights, as a nod to Prairie Fire. The oakleaf, a key element of OakStar, was delicately etched into the acrylic. For privacy, the partitioned walls were frosted and then finished with LED lights, making the space lively in places, and intimate in others.
The design team pushed the style through a custom-made light fixture, a modern ceiling sculpture and an oakleaf-framed TV monitor. Original furniture, including desks, filing systems and a conference table, were designed and built to optimize the space and the needs of the bank. To ensure the acoustics in the bank provided ease of conversation, custom ceiling clouds were installed with accent lighting.
OakStar Bank Project Feature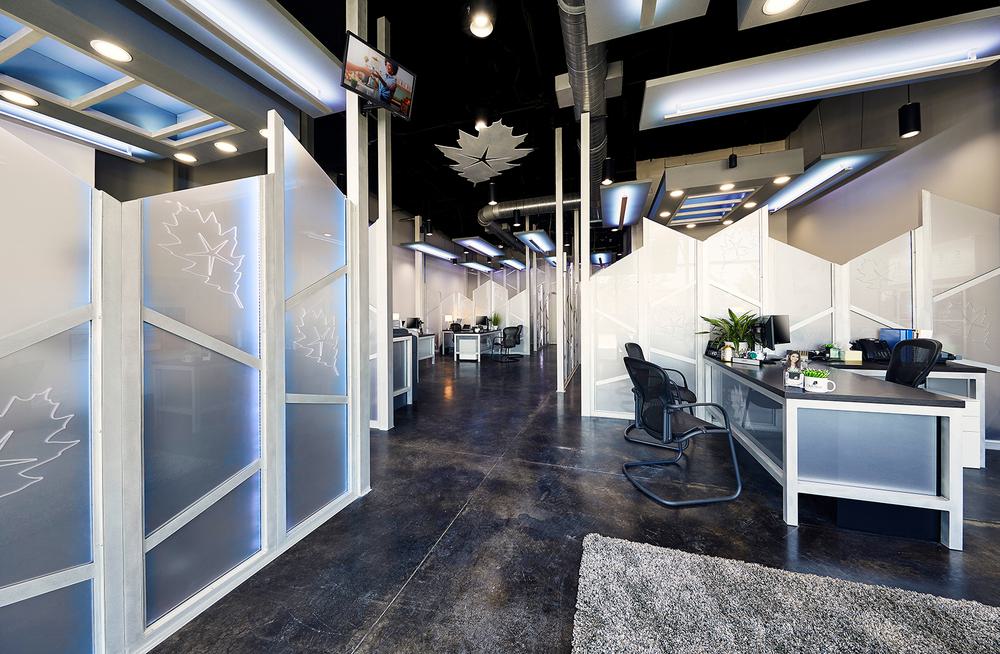 Wall dividers to create private office spaces. The dividers are made of acrylic and are etched with the bank's oak leaf and then lit to bring interest to the space.
Ceiling sculpture to elevate the brand experience.
Ceiling clouds throughout the space with built in lights to ensure the acoustics were best-suited for the business environment.
Custom-made furniture to fit the space and the unique needs of the business.
A Design-Build Solution for the Long Haul
With a traditional infill contractor, OakStar Bank would have spent more on the infill and then had sunk costs when they moved to their permanent location. With Paragon they were able to invest in custom-made pieces that delivered a stunning space and could easily be removed and utilized in their next location. This same solution could be leveraged by any business that wants to optimize their infill investment by spending money on furniture and modular pieces that can be utilized in future spaces:
Restaurants
Nail & hair salons
Photographers
Office spaces with cubicles
Retail shopping