Services
Scenic Elements
Video
Lighting
Interior Design
Traditional to Transformed
North Nixa Baptist Church in Nixa, MO, came to Paragon 360 in need of a complete renovation; they wanted to update their aging facility with minimal interruption to their services. Paragon worked within their budget to transform the outdated space into a modern but warm space for their ministry to grow.
Using the Paragon 360 design-build approach, our team assembled all the custom fabricated architectural elements off-site, tested the fit to ensure the perfect display, and installed the finished product in just a few short weeks. Paragon's approach of offsite fabrication allows for significant cost savings and increases project delivery time. The renovation changed the overall aesthetic, making it feel bigger, more welcoming to guests, and better suited for digital services.
The Switch to Streaming
Making a good first impression on guests is now more critical than ever. This means providing sermons that are easily accessible for church services — both in-person and online. Providing streaming services is no longer an option, but a critical component of church ministry. With this in mind, North Nixa Baptist Church decided to modernize its space to improve the appearance of its streaming services during the COVID-19 pandemic.
North Nixa knew they needed to shift gears in order to continue providing life-changing experiences for their members, and they entrusted Paragon 360 to make it happen. They wanted to create an environment that would make a great first impression on newcomers, especially on digital guests. Given the size limitations of the space, we created staging elements that were visually appealing without sacrificing the functional space of the stage.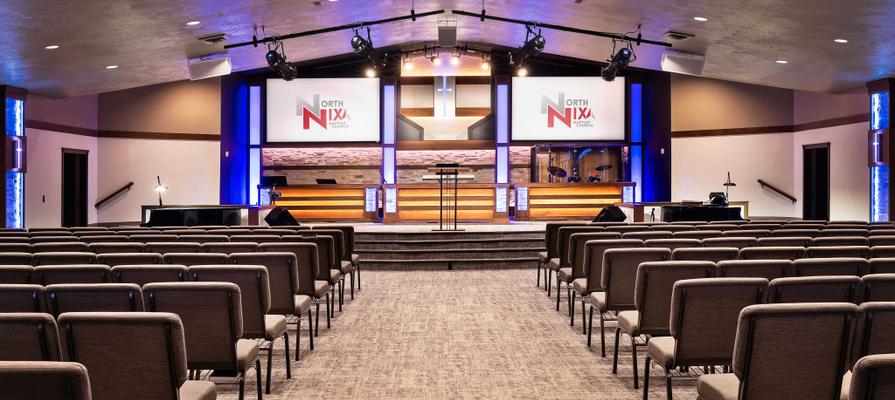 Designed to Last
North Nixa Baptist Church wanted to create a sanctuary that was visually appealing to their multi-generational congregation, members and visitors — both digitally and in person. Setting the stage for a stellar streaming experience, we applied a faux stone treatment to the back wall, created modesty walls to add depth to the space, and installed illuminated columns with custom cross scones to the sanctuary and baptismal. To extend the longevity of this design, Paragon integrated LED lighting with unlimited color palettes into both the columns and modesty walls. Having flexible color options allows North Nixa to keep its stage design looking fresh for years to come.
To create a more dynamic experience, we installed new house lighting and illuminated columns to match the stage. The ability to bring color from the platform out into the seating area creates a more immersive experience throughout the room, adding to the space's ambiance and inviting the congregation in as participants in the worship experience, not just spectators.
Built on a Budget
One of North Nixa's major concerns before starting this project was its limited budget. They knew that Paragon had done very large-scale renovations in the past and weren't sure that Paragon would be able to work within their budget.
Paragon 360 is proud to work with churches of all sizes and budgets to create spaces that will leave lasting impacts on their guests. For North Nixa Baptist Church, this meant extensively discussing the scope of the project and identifying elements that the church members could do themselves.
With this collaborative approach, our Interior Design team made several recommendations to complete the sanctuary's new look. To create an illusion of a bigger space, Paragon suggested that North Nixa paint their low-hanging ceiling above the stage black. The blacked-out ceiling helps to hide lighting equipment and projectors above the stage. Paragon also suggested color palettes for the updated carpet and seating. By renovating this space, North Nixa Baptist Church is well-positioned to continue growing its ministry and providing life-changing experiences to those in the room and online.
"My experience working with Paragon 360 was phenomenal. Every person I interacted with was professional and willing to go the extra mile to take care of us."