Crafting a Whimsical Story-Book Experience
CoxHealth had big visions for their pediatric unit. Working with Torgerson Design Partners, the pediatric unit went from a white-box space to a three-dimensional, whimsical experience in just a few weeks. The outcome is a state-of-the-art pediatric unit that brings joy to the patients and contributes to attracting top medical professionals to the healthcare system.
Torgerson Design had created a beautiful vision for the unit, applying it to the lobby, hallways and nurses stations with a real-life tree-house environment. After completing several projects together, Torgerson Design knew that Paragon had the talent and the experience to turn their vision into reality in a cost-effective, turn-key manner.
CoxHealth Pediatric Center
"It's easy to look at something on paper. But, bring them to life? To bring them into reality? That's another story and Paragon was able to do that for us. This facility is one of a kind."
Building Visions to Reality
The design collaboration between Torgerson Design and Paragon created a space that delivers an experience that will bring a smile to a child of any age. Regardless of the theme or the space, the craftsman at Paragon Fabrication can take architectural plans or basic concepts and build them into reality. The beauty of Paragon is that they can be involved as much as desired in the concept and design phase, but then fabricate the project fully, install it and commission it, providing a very turn-key product with high accountability and amazing value.
Cox Pediatrics Project Features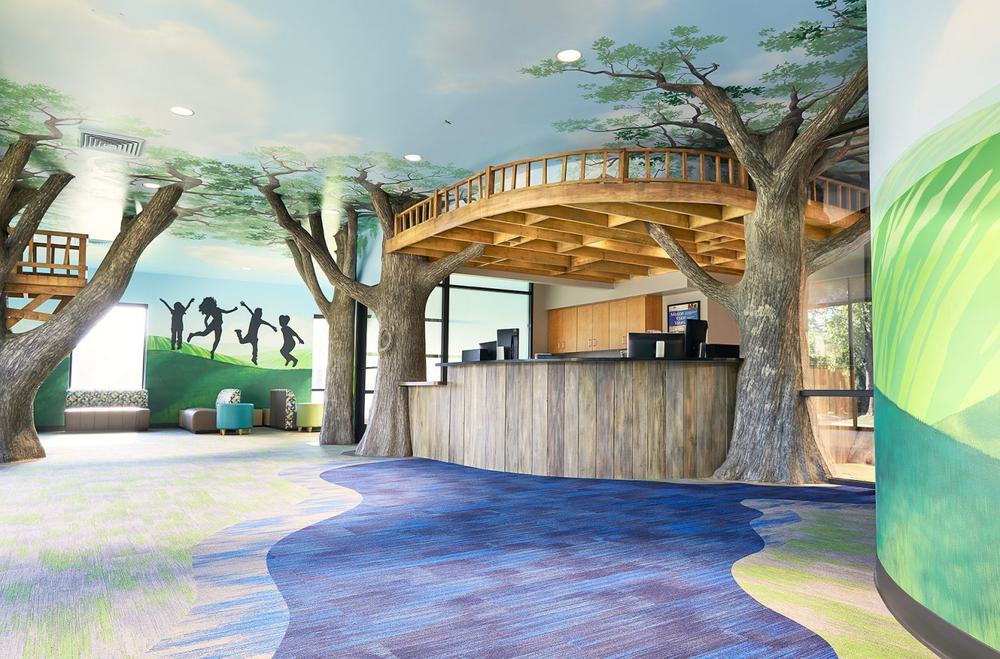 Hand-crafted deck, built to spec.
Custom-aged paneling to match the theme.
Fabricated trees with custom-mural extensions.
Cox Pediatrics Nurses Station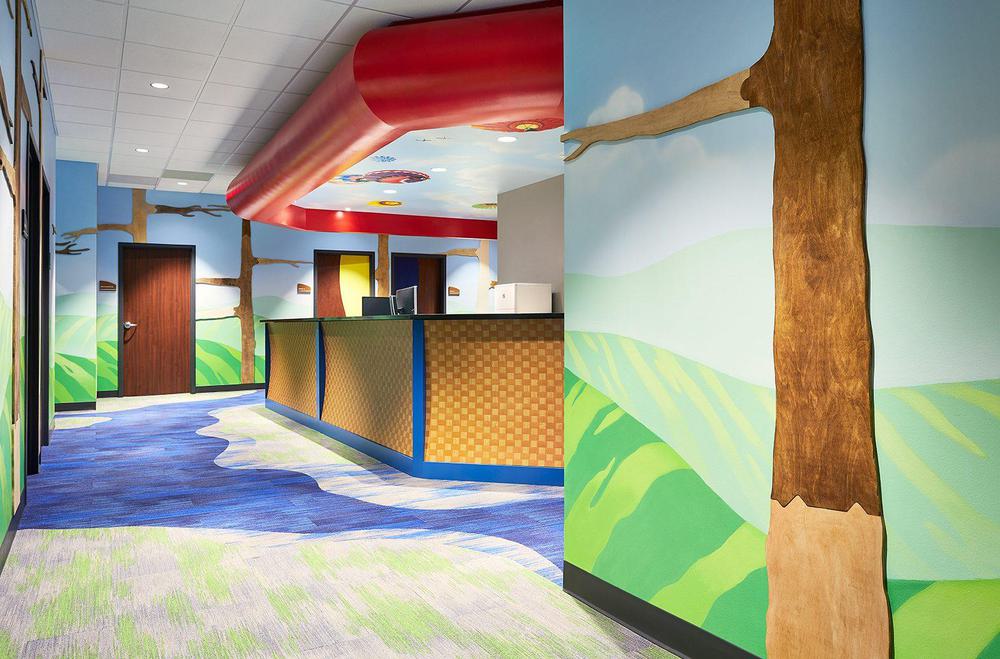 Ceiling and walls commissioned to muralists.
Hand-crafted basket weave for balloon concept; created to be easy to clean and sanitize.
2-D trees to bring the murals into the environment.
Making Doctor Visits a Playful Experience
Paragon Fabrication took the vision and began considering how to take the key mural in the waiting area and bring the experience to life using multi-dimensional elements. The murals were commissioned to a team of artists and the multi-dimensional elements were installed on top of the murals. A cornerstone of the space are multi-dimensional trees built into a rustic treehouse that frames the check-in desk. This theme was carried into the nurses station where murals are accentuated using 2-D slat wall to create tree trunks. The design includes hot air balloons with hand-fabricated, two-dimensional baskets.
One of the key considerations was constructing the multi-dimensional elements in a way that could uphold the highest cleaning and sanitation standards. The team made a strategic decision to use a canopy structure and paint the tree foliage on the walls and ceilings instead of using real faux foliage. This design alteration was a great solution to maintaining the integrity of the vision while satisfying the stringent cleaning requirements.