Many small churches feel they can't afford renovations under typical church construction methods. Read to learn more about what to consider before beginning your remodel process and how new construction approaches can deliver your project faster and more affordably.
Determine the Project's Process
Many small churches feel they can't afford renovations under typical church construction methods. Anthony Christian Church had those same concerns being a church in a small community. The sanctuary space of the church was outdated and needed a fresh, new remodel.
When beginning the remodeling process, we advise all churches to consider the journey they are about to take and the approach used to deliver the project on time and at a price that works for them. Research other churches and check out their sanctuaries! Looking at other churches is a great way to see what is possible and begin to assess the direction that will best suit your space.

Before Beginning a Church Renovation:
Know that renovations can be done affordably and with limited downtime
Look for a partner that specializes in renovating churches
Renovate in phases and start with the most significant impact
Find an experienced partner that delivers complete renovation
Watch below to see more about tips for a full renovation!
Find a Partner that Specializes
Choosing a partner that works with you, not against you, allows you to receive a complete renovation at an affordable price with limited downtime. A partner that specializes in church renovations is necessary to understand the needs and concerns of the church.
When working with your chosen partner, consider the project's scope. Does it correspond with your financial situation? Determining where your small church needs the most attention will help you evaluate where to get started. If your small church has many areas that need remodeling, renovate in phases and begin with the project that has the most impact on your community.
"All those different things that we asked, they were able to do, and do it for less than what we thought we could do it for."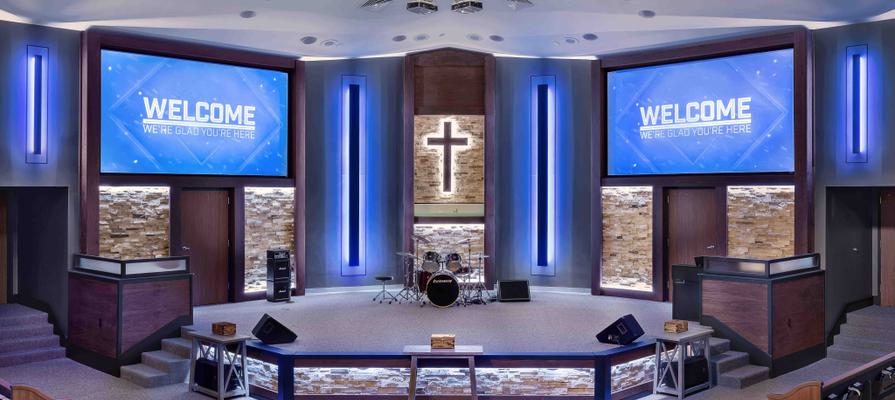 Figure Out the Finances
After you decide on the scope with your partners, small churches must discuss how they will fund the project. Work with your local bank to discuss the church's financial options. And consider working with members of your congregation to help save for the renovation.
During the renovation process, small churches should expect to work directly with someone from the company to discuss their needs and lead both teams through the process. From there, you should expect to see high-quality renderings with multiple options to choose from. Your partner should be open to suggestions and desire to work with you to create the space you're envisioning.
Renovations Done Efficiently and Affordably
At Paragon 360, we build spaces differently. All the necessary renovation pieces are prefabricated in our shop, then delivered to the site for installation—resulting in a complete renovation with an expedited timeline.
For small churches that get utilized for various events, there isn't an option to be out of commission for weeks or months while the project progresses. That is why small churches need to work with an experienced partner that can swiftly complete projects with efficiencies that lead to cost savings and a valuable end product.
We're Here to Help
Paragon 360 is helping organizations across the country pivot to deliver digital content through studios, increasing connection and engagement with audiences. To learn more about how studios can help you create more connections with your audience, contact us.